The Essential Guide for Couples Moving in Together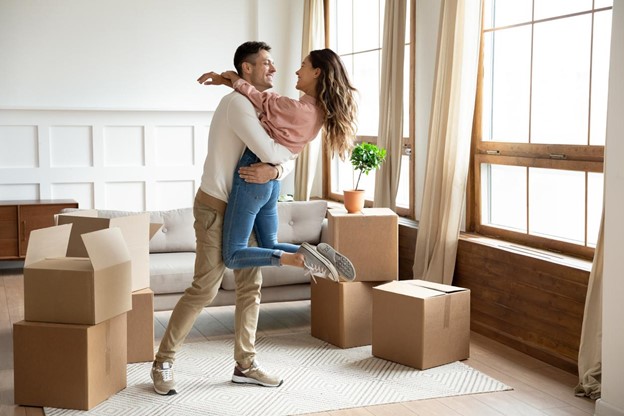 Moving in with your significant other is a huge and exciting step in a relationship that comes with a lot of planning, communication, and coordination that can become quite overwhelming. From budgeting to packing and moving, becoming overwhelmed by the transition isn't uncommon.
If you're preparing to move in with your partner, we've put together a guide to help you check every box before, during, and after your transition. Learn how to make moving in together easier with National Storage.
Before The Move
Before you jump right into your big move, you should take some time to sit with your significant other to discuss several factors. First, you'll need to decide on a place to live. Creating a joint budget for living expenses will also be key for a smoother transition. It all depends on your current lease obligations, financial situations, and overall personal preferences.
Although finances and money can be a difficult topic to talk through, it can be the make or break of a successful living arrangement with your partner. Be honest when talking about income, savings, bills, and your financial expectations.
Decide Where Home Will Be
It's important to consider things like pets and extra room and space for future children. If you don't think either of your current places will have enough space to accommodate all of your needs, consider seeking a new home together.
Agree on a Budget
Create a budget together that includes things like rent, groceries, utilities, and other day-to-day expenses. Then, determine how you'll split up the bills between each person and make sure you both come to a fair and practical agreement.
During The Move
Whether your partner is moving in with you, you are moving in with them, or you both are moving into a new home together, staying organized throughout your move is crucial. While preparing for the move focused on the logistics of moving in together, the move itself will hinge on communication and coordination.
Moving in with your significant other may be an intimidating process, but it's also a great exercise in relationship building. In addition to the moving day tips below, take a deep breath and focus on the positive aspects of your moving day: you and your favorite person get to live together! After taking a moment to center yourself, make moving easier with a few tips:
Create an Inventory of Your Belongings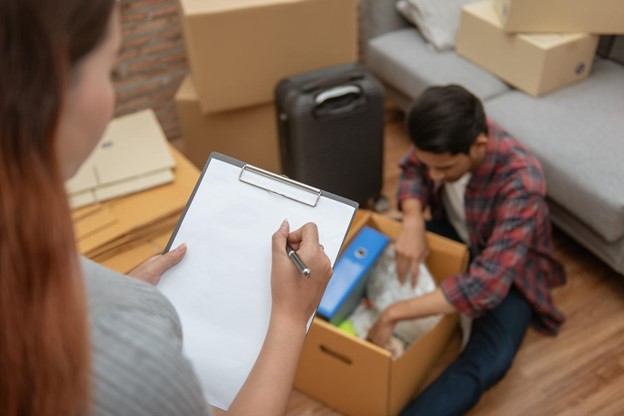 Before you start packing, go through both of your homes and make a list of all of your and your partner's belongings and make note of duplicate items. Common duplicates you might see include:
Appliances
Cooking utensils
Furniture
Electronics
If you find a few duplicate items, keep in mind the advantage of holding onto them: if you have two air fryers, and one breaks, you'll have one on hand to replace it, at no cost. Finding a spot in your home to store duplicate items may be easier said than done, however. If you need a place for your extra air fryer or other duplicates, self storage can help.
Rent Self Storage
For seasonal items like holiday decorations, winter clothes, sporting equipment, and belongings you're not quite ready to let go of, consider renting a storage unit near your new home. Self storage is a great way to maximize the space in your home without having to give up things you still want or need.
With locations all throughout Indiana, Kentucky, Michigan and Ohio, National Storage offers a variety of storage unit sizes ranging from 5' x 5' to 10' x 20' at affordable rates.
After The Move
Once you get all of your belongings packed, moved, and settled into your new home, you may feel like your job is done. But, there are a few more steps you need to take to ensure a smooth transition to living with your significant other full-time.
Agree on Decor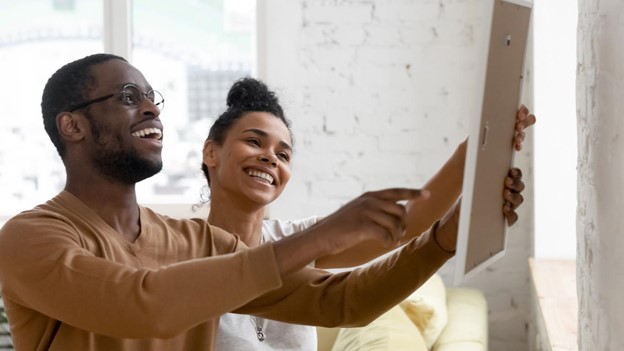 This is the fun part! Take the time to sit down with your partner and agree on decor for your new shared space. In addition to creating an atmosphere that suits both of your personalities, you'll get to practice making decisions and agreeing on a budget together.
Discuss Chores and Responsibilities
While chores, responsibilities, and household duties are the last thing you want to be thinking about after moving in with your partner, it's important to establish expectations from the start. Talk through chores and responsibilities and decide who will take care of them and when.
Keep in mind that your delegated tasks don't have to be set in stone; you guys can choose to switch off responsibilities, so one person isn't stuck washing dishes or doing laundry every day.
Understand it Takes Time to Adjust
After living alone, with family, or with roommates, transitioning to living with your partner is a significant change. Understand that it will take time to get used to your new home, changing schedules, new surroundings, and more. Communication is always key in a relationship, so be open and honest (but kind!) as you adjust together.
Start Your Move With Affordable Self Storage
Ready to begin your journey? Start by renting a self storage unit with National Storage. No matter if you plan on storing a few duplicate belongings or the contents of your entire house or apartment, our storage units are spacious, secure, and affordable.
With state-of-the-art storage features and friendly storage managers, our team is ready to help you make your transition easier with self storage. Find a facility near you, check out our packing and moving tips, or reserve a unit online today.
More From National Storage