5 of the Biggest Moving and Packing Mistakes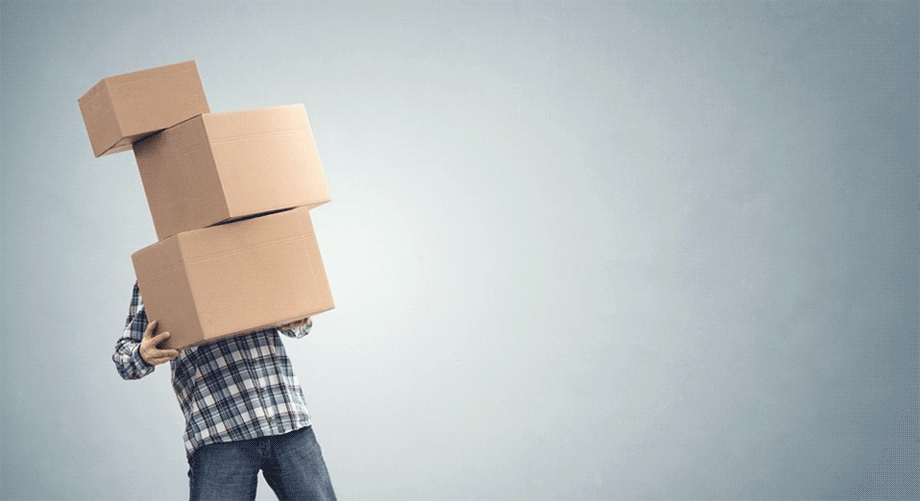 With scores of packing and moving tips to keep in mind, it feels impossible to remember them all when it comes down to the wire. Sometimes, it's more helpful to know a few common moving mistakes to avoid. From stacking boxes carelessly to failing to account for the storage space you need, National Storage compiled some "don'ts" of the packing and moving process.
1. Using the Wrong Packing Materials
You might think that any old leftover boxes will do the job, but being prepared with the correct type and amount of sturdy packing containers and gear will go a long way to ensure a smooth move. It's better than packing your possessions into various boxes you've saved from packages or products, as their odd shapes and sizes won't stack and fit together as well inside the moving truck. And although it's tempting to toss everything into large plastic totes or trash bags, use these sparingly: When bulky furniture is packed among many bags in the truck, it has more room to shift around, and the lids of plastic bins can crack under the weight of other boxes. Heavy-duty boxes help keep the load tightly packed.
Once you determine how many boxes you'll need, make sure you're stocked with enough tape and protective covering, wrap, and filling materials for your furniture, delicate belongings, and the insides of boxes. It helps to create a moving inventory list of all your items, not only to stay organized but also to determine necessary packing supplies (and how much).
Some must-have supplies for your move include:
Boxes (small, medium, and large)
Packing tape
Packing paper
Bubble wrap
Furniture covers
Bold markers
2. Failing to Properly Fill, Seal, or Stack Boxes
Securing everything within the box is just as important as taping up the outside. You can never have too much padding to prevent damage in transit. Depending on their fragility, it's good to wrap each item in bubble wrap or newspaper. Create a base layer of packing peanuts or another protective material, then pack the heaviest things on the bottom with the lightest layered on top. Add more packing material on top to create a cushion between your items. Partially empty boxes may dent or cave during loading, unloading, or transport, so fill them to the brim when possible—whether it's with bubble wrap, packing peanuts, crumpled paper, or clothing—to leave minimal empty space inside.
With that said, many new movers make the rookie mistake of overfilling boxes in the name of space efficiency. This may render them too heavy to lift, let alone carry, without bursting at the seams. To avoid this, try to pack your heaviest items in the smallest containers so they're more manageable to haul.
It's also crucial you don't skimp on the tape. Unless you properly seal and reinforce the bottoms and corners of your boxes with quality packing tape, they can break under their weight. For good measure, use several layers of tape to shut boxes and reinforce their walls.
When it comes to packing your vehicle, do not place heavier items or containers on top of lighter ones. Load boxes of delicate items onto the truck last so you can scope out the best place for them to remain safe, snug, and uncrushed alongside everything else.
3. Forgetting to Label Boxes
Don't skip this step. Using a dark permanent marker, take a minute to label each box on multiple sides with its contents and the room in which it will be unpacked in your new home. This is helpful both for the movers and for you when you're searching for something specific. In addition, mark which boxes contain fragile or easily damaged items, such as glassware, dishes, keepsakes, artwork, and decor.
4. Forgetting to Set Aside the Essentials
You won't be able to pack every single thing ahead of the move when you're still living in the space. You'll need to keep day-to-day essentials available during the entire process so you're not scrambling to find them later. Having a box or suitcase of these items handy on moving day can be a lifesaver.
Some things you might need to access throughout your move include:
Toiletries
Cleaning supplies
Dishware and utensils
Pillows and blankets
Electronics and chargers
Snacks and pet food
Medications, glasses, contact lenses, etc.
Wallet, checkbook, cash, etc.
Important documents or confirmations
5. Procrastinating the Planning and Prepping
Save your body and mind the stress of procrastinating your packing and moving plans. Schedule your address changes, utility transfers, and moving assistance well in advance to avoid last-minute hiccups. Summer is peak moving season, so remember that moving companies' schedules can fill fast. Now is no time to overestimate your own strength or furniture Tetris abilities; a successful move requires a dedicated crew of friends, family, or professionals.
Poor scheduling and budgeting can be the downfall of movers. If financial planning isn't your thing, some websites offer a moving cost calculator to help estimate and anticipate your total moving expenses. It's also wise to know what your homeowners insurance can cover—as well as what your moving company can offer—to protect your items during the move.
Lastly, if you don't give yourself enough time to sort through things before packing them up, you could end up bringing along more than you need (when you could've lightened the load by selling, donating, trashing, or storing certain belongings). Keep in mind your new floorplan and what you actually want to take with you. Reliable space solutions like climate-controlled storage units at your nearest self storage facility can house whatever you don't have room for.
National Storage Can Support and Supply Your Move
Need extra space to provide relief during your big move? At National Storage, we're proud to offer packing and moving tips and supplies for your transition into a home or storage unit, with many self storage locations across Michigan. When your life is on the move, our facilities are here with features and customer service you can count on.
More From National Storage