5 Ways to Help Kids Prepare for a Move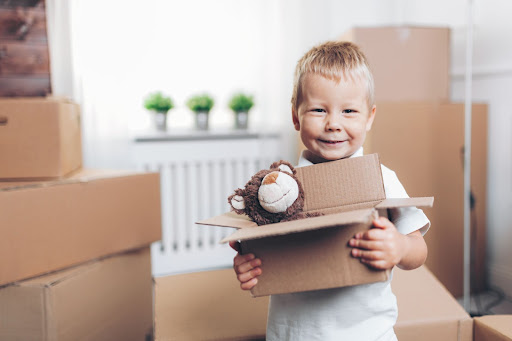 Moving is complicated enough, but moving with children? That's a tall order. In addition to making sure your belongings are packed, guiding children through a move and getting them acclimated to their new surroundings can really cause a few headaches.
In addition to helping you find all the materials for your moving needs, National Storage can help you figure out how to prepare for a move when your kids are involved.
Involve them in the process.
Whatever your reasons for moving, give your kids some agency (or at least make them feel like they have some). Ask questions about what they'd like to see in their new home. For older kids, you can even involve them in the process of looking for houses. Younger kids can help pick out paint colors for new rooms or even pick their bedrooms. When it comes time to pack, do your best to let the kids handle some of that work. It'll take it off your shoulders and allow you to focus on the thousand other things on your plate.
Find fun ways to help them learn.
You can also find additional resources to help them deal with their own stress. There are lots of great kids' books about moving out there, from classics like The Berenstain Bears' Moving Day to updated takes like My Very Exciting, Sorta Scary, Big Move: A Workbook for Children Moving to a New Home. For younger kids who aren't yet readers, finding moving songs for kids or videos on YouTube that treat moving as a fun experience might be just as helpful.
Help create memories they can take with them.
Moving is often sad! Kids have rich lives of their own, and moving uproots them. Create memorable experiences with friends and nearby family prior to the move. Give them as many opportunities to hang out with their friends before leaving. Other ideas include:
Throw a going-away party where your kiddos write notes to give to friends.
Have their friends create video messages.
Don't let your kids lose touch with their friends after the move; organize regular video chats to stay updated or encourage letter-writing as a fun activity.
Tour your new neighborhood before you move there.
If possible, take a family trip to your new neighborhood before you're set to relocate. Learn more about the area. Research nearby parks, restaurants, playgrounds, and other points of interest. Make a list of things to check out when you arrive. Search for local restaurants that offer the best versions of your kids' favorite foods.
Use self storage to ease the transition to a new home.
You might think that putting things in storage complicates a move, but the opposite is true! If you're able, placing items in storage as they're packed allows your family to take a more leisurely approach. Because a self storage unit is a convenient way to keep your items close at hand, you won't have to worry about not having access to something should it become a last minute need.
Trust National Storage to Simplify Your Move
Whether you need self storage to help stage your move to a new location or want to rent while you house hunt for that perfect new place to call home, National Storage can help. Visit one of our many area storage facilities to learn how our storage facilities can keep you organized during your move.
More From National Storage