Storing Patio Furniture in Winter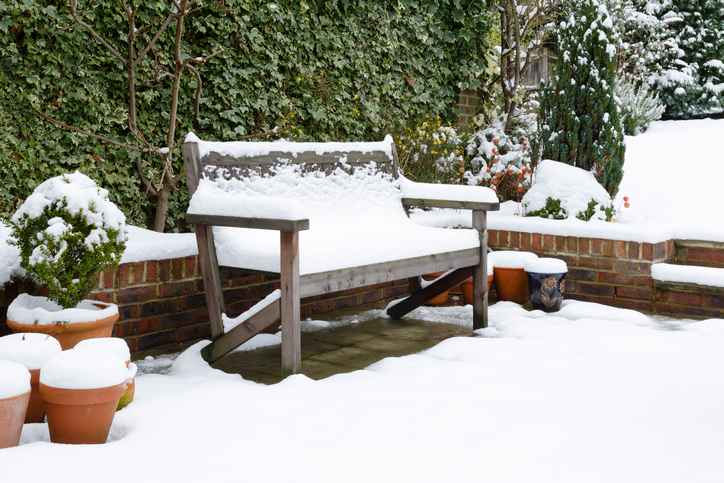 Your outdoor furniture has served you well. From neighborhood cookouts to kicking back on lazy weekends lounging outside, it's helped you make the most of your outdoor space. Now that it's time to batten down the hatches for winter, knowing how to store outdoor furniture in winter is a must. Our furniture storage tips will help protect your investment while you wait patiently for the return of warm weather.
Why Outdoor Furniture Needs Winter Storage
Covers protect your patio furniture from sun damage, rain, and snow. However, whether you live in Kalamazoo or Columbus, winter in the Midwest means freezing temperatures, snow, and ice, which can cause wood and plastic to crack. Additionally, metal furniture may rust if water seeps through cracks in its paint. All types of outdoor furniture are better preserved indoors.
While you can try squeezing your full outdoor patio set into your garage or basement, consider a self storage unit. Self storage allows you to safeguard your outdoor furniture without sacrificing space in your home.
Pre-Storage Cleaning
Although designed for outdoor use, patio furniture needs a little pampering to keep it summer-ready. Give it a good cleaning with detergent and water before storing patio furniture in winter. Condition it with these additional steps:
Treat wooden furniture with a protective wax
Apply tung oil to teak or cedar furniture
Use moisture repellent on wicker legs and feet
Scrape loose rust from metal furniture and apply a rust-preventing primer
Whether you scrub your furniture pieces or just touch them up with paint or oil, they should be thoroughly dry before being placed in storage.
Care for Your Accessories
In addition to the furniture pieces themselves, you should place your cushions, umbrellas, and other accessories in storage. Prolonged exposure to sunlight and winter weather can cause fabrics to fade, and rain- and snow-soaked cushions may develop mildew when the temperatures rise.
To properly store outdoor furniture cushions, remove their covers and toss them in the washer. If you can't remove covers from your cushions, brush off as much dirt as you can and spot-clean any stains. Cushions and pillows should be completely dry before going into storage. Clean your patio umbrella with soap and water; give it plenty of time to dry. Lubricate its gears and handle before storing it in a closed position.
Rent Your Patio Furniture Storage Unit Today
When you need to store outdoor furniture for the winter, you need self storage solutions you can rely on. At National Storage, we offer a wide range of convenient storage units designed with your needs in mind. Our unit sizes range from 5×5 to 10×30, so whether you need to store your apartment's three-piece patio set or several large outdoor sofas, chairs, tables, and all their accessories, we've got you covered. From catching rays on your chaise lounge to sharing a loveseat as the sun sets, your patio furniture provides a lot of joy in the spring and summer. Take care of your furniture with National Storage—we have self storage facilities located throughout Michigan and Ohio. Find a storage facility near you and rent your unit online today!
More From National Storage