Small-Space Living Tips for College Students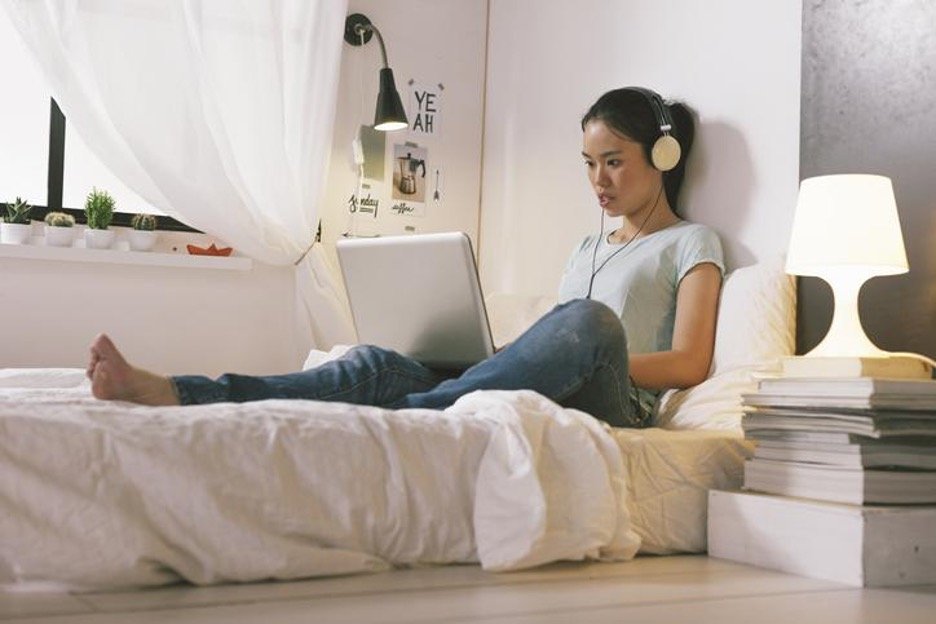 In addition to moving away from home and taking more challenging classes, one of the biggest adjustments students face when they move to college is limited living space. Whether you rent a student apartment at Western Michigan University, live in the dorms at the University of Michigan, or rent a house with several roommates elsewhere, it's crucial to make the most of the room you have.
Not sure where to begin with maximizing your small space? The National Storage team has plenty of space-saving storage ideas and tips to help your new college home feel cozy without being cramped.
1. Get Creative with Closet Space
One of the most important spots to maximize space is your closet. College dorm closets are notoriously small, leaving students with two apparent choices: Get rid of clothes, or cram them wherever they'll fit. Thankfully, there's a third option—vertical storage.
There are several types of vertical storage you can use in closets, including:
Hanging shelves
Shoe organizers
Closet rod expanders
Rolling storage chests
2. Use Under-the-Bed Storage
The space under your bed is valuable real estate, especially if you still need additional places to keep clothing and other belongings. There's a wide selection of under-the-bed storage options, from flexible fabric bags to rolling storage boxes and drawers. Additionally, many college beds' frames are adjustable, allowing you to create more vertical room.
3. Create a Kitchen Space Beneath Your Lofted Bed
If you're lucky enough to have the ability to loft your dorm bed, you have the option to create a "room within a room." Many colleges and universities let dorm residents rent or bring their own mini-refrigerators; by plugging in your tiny fridge under your lofted bed and setting up shelves, you can accommodate your own kitchen and eating area.
Living in an apartment or house? You can buy a lofted bed frame and create a reading nook or hangout space under your bed with a futon or chair. Alternatively, you can save even more space by hooking a hammock up on your lofted bed frame itself!
4. Make the Most of Wall Space
No matter where you live in college, adhesive wall hooks will be your best friend. Both wall-friendly and easy to apply, adhesive wall hooks are perfect for a variety of storage functions—from hanging up jewelry and accessories to keeping bulky coats and jackets out of your closet. Plus, you can use extra-strong adhesive strips to put up extra shelving without damaging your walls with nails.
5. Organize Your Desk
Your desk is key to keeping your cool during the busy school year. Without a way to organize homework assignments, study guides, or notes, your chances of losing important papers in the shuffle of a cluttered study space will only go up.
There are several ways to organize your desk; use mugs as pencil holders, separate documents into manageable folders, or keep your office and homework supplies in one spot with a desk drawer organizer. Don't have a lot of desk space? Create more real estate with a stand for your laptop, or keep books, accessories, and more off the desk with shelves or wall organizers.
6. Declutter Your Kitchen
The more roommates you have in your apartment or rental home, the bigger the struggle will be to find space for your pots or pans in the kitchen cabinets. Before the kitchen dissolves into a cluttered catastrophe, there are several ways you can keep your cooking and eating space organized, such as:
Throwing out or giving away duplicate items (spatulas, whisks, can openers, etc.)
Hanging larger pots and pans on the wall
Installing additional shelving units
Buying an over-the-door spice rack or general organizing shelf
Dealing with an especially small kitchen or dining area? Consider a counter-height kitchen table or kitchen island. In addition to taking up less space than a traditional dining room table, these alternatives have shelving for cooking utensils, food storage, and more.
7. Fashion Your Space with Multifunctional Furniture
Speaking of furniture alternatives, you can even save room with the furniture you choose for your college apartment or house. Keep blankets from cluttering your couch or floor by putting them in ottomans with hidden storage, or give your books and magazines a home underneath a coffee table with shelving.
Need to find some storage options that don't involve buying a new fleet of furniture pieces? No problem! Convert under-the-bed organizers into under-the-couch storage. If there's not a lot of space under your couch, grab some risers from the store to lift it and create the clearance your storage containers need.
8. Invest in a Self Storage Unit
All of these tips and ideas are great for your living space during the school year, but you may be wondering what you're supposed to do with all your college belongings during the summer. Though you can attempt to cart all your things back home and deal with a cramped and cluttered vacation, there's another solution: a self storage unit.
By keeping your college furniture, clothes, and more in a storage unit, you can keep your items nearby without worrying about packing and moving them at the end of every school year. Plus, if you have seasonal clothing consuming closet space, you can rent a smaller unit for an additional "closet away from home."
Maximize Your College Space with National Storage
Interested in creating the space you need in your college home with self storage? Trust National Storage to offer the storage unit for all your student storage needs. Since 1987, we've proudly helped college students throughout Michigan and Ohio find storage solutions at our facilities. Depending on the facility location, we provide a variety of convenient features, such as climate-controlled storage, packing and moving supplies for purchase, and moving truck rentals. We even make our units affordable for students with month-to-month leasing.
If you're ready to clear the way for much-needed space in your college dorm, apartment, or rental home, check out our unit size guide, or find a self storage facility near you today!
More From National Storage