How Secure is Your Self Storage Facility?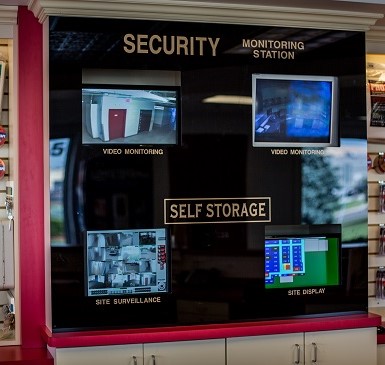 If you're running out of room in your home for all your possessions or collections, renting a self storage unit is a perfect solution to gain back some extra space. When you store your belongings, regardless of whether you're storing things long or short term, you want to make sure your items are protected.
A secure self storage facility will give you peace of mind that your belongings are safe while they're in your storage unit. Therefore, when you make the decision to look into self storage, the security features the facility has available should be top of mind. You want to make sure to thoroughly research local facilities and how secure they are.
Self Storage Security Features
Some of the main security features you should look for in a self storage facility include:
1)      Security Cameras: Video camera systems at self storage facilities range from cameras that offer 360 views to motion activated cameras. A storage facility should have at least one video camera (at the gate). However, most facilities have more cameras throughout the property. Make sure to ask how often the camera footage is monitored throughout the day. Many of the National Storage locations offer 24 hour video monitoring and taping.
2)      Gate Access for Safe Storage:  A storage facility should have computerized gate access entry. The renter would receive their own code for entry to the facility. This code should be shared with a very limited amount of people. The resident manager of the facility will be able to track who entered the facility and when to give added security.
3)      Secured Building Access: In addition to having a code for the initial gate entry to the facility, for added security, you might need a code in order to access a storage building.
4)      Resident Managers and Office Hours: A Resident Manager lives at the storage facility and gives added security to the location. Self storage operations also have specific gate access hours and office hours for added security.
5)      Secure Self Storage Units with Individual Door Alarms: Individual door alarms give an additional level of security. In addition to door alarms, having a door lock is important for storage security. Make sure that the lock is a disc or cylinder lock and that it is difficult to cut with bold cutters.
6)      Lighting and Cleanliness: One of the most important self storage security features is proper lighting. Does the facility have proper lighting in both the outdoor and indoor storage areas?  This is especially important for facilities that offer 24 hour access to their storage units. A clean property also shows that the resident managers and staff take pride in their facility and keep an eye out for the safety concerns of their customers.
If you have any questions about the security features available at our National Storage facilities, call our stop by anytime. Keeping your belongings safe and secure is one of our top priorities!
More From National Storage