Hot Trend Alert: Furniture Repurposing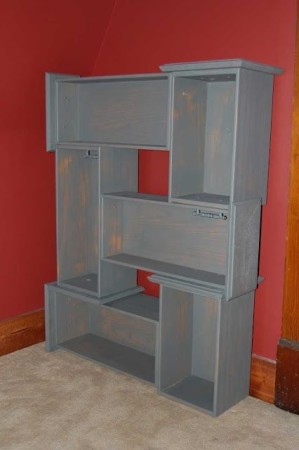 Are you one of those people who just loves a good project? Do you like the idea of creating interesting, one-of-a-kind items for your home? If so, you should consider learning more about one of the latest trends in home decorating: furniture repurposing.
Over the past few years, home decorating using vintage or older furniture has been growing in popularity, largely thanks to websites like Pinterest. Repurposing, also called "upcycling", is trendy because it's considered to be environmentally-friendly since you are saving large items from being dumped into landfills.
Repurposing means taking something old, like vintage or classic furniture, to create something new and modern. Just get ready to use a little elbow grease and creativity, and you can turn an older, somewhat unusable piece of furniture into a unique conversation piece for your home.
Popular Ways to Repurpose Furniture
So, a popular home decorating trend is to repurpose furniture. But what are some of the trends within the trend of repurposing?
Build new toys for kids: Let's face it- children's toys can be very expensive! Repurposing furniture for children is a fun way to create a one of a kind toy that they can enjoy for years to come. Got an old entertainment center? Remove some doors and create an amazing play kitchen like the one below.  Or, take that same armoire and reimagine it as a closet for a girl's dress up costumes and shoes.
Create interesting storage: Using vintage furniture to create unique storage spaces within the home is a widely popular idea. For example, an old armoire or entertainment center can be repurposed and used as a pantry or craft organization station.
For the pets: Repurpose furniture to turn items into dog or cat beds, or even feeding stations to truly pamper your pets.  Get creative- an old dresser that's seen better days can be turned into a cat condo. Hide that litter box and give your cats a place to relax, all in one fell swoop!
Interesting wall décor or shelving: Another popular way to repurpose furniture to take it completely apart and create an entirely new piece out of it.  For instance, using old dresser drawers as shelves or shadow boxes to hang on the wall and display photos or knickknacks.  You can even use those same drawers to create standing bookshelves- sure to be a conversation piece anywhere in your home!
Pallet projects galore: Pallets can be utilized around the home in more ways than you ever thought possible! They can be repurposed and used for coffee tables, turned into couches, chairs and bedframes, benches, even wine racks! While pallets themselves do not actually start off as furniture, they have definitely entered the repurposing scene to create new and unique pieces on their own. Plus, you can often get pallets for free from area businesses.
So now that you have some great DIY project ideas, what will you create first?
More From National Storage