10 Tips for Making the Ideal Patio Garden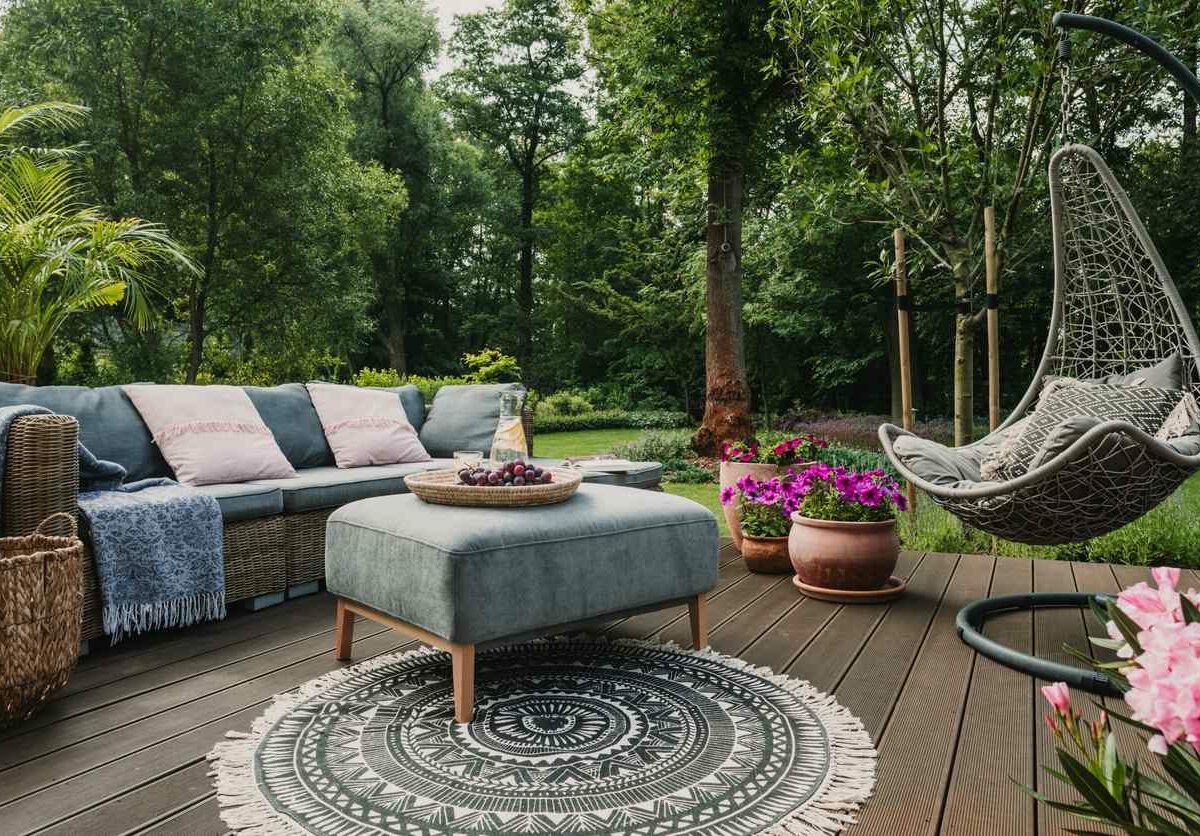 Have you always dreamed of having your very own patio garden, one that represents who you are and your love of nature? You aren't alone. At National Storage we're also fond of all things outdoor gardening, and we want to share ten of our patio gardening ideas to help you fully realize the garden you desire.
What is a patio garden?
There are many terms and trends to keep track of when it comes to outdoor spaces, and many are used interchangeably — so we understand if you aren't quite sure what a patio garden is. Typically, an outdoor space is considered a patio if it is a flat open area that is next to your home and level to the ground, and it may be uncovered, paved, or tiled. A patio garden is an area you have devoted to growing plants or flowers on top of (or next to) your patio, whether that is in above-ground planters or the dirt right next to it.
#1 – Make it Feel Organic
A good patio garden shouldn't feel forced — If it's not in your interest to have a well-manicured, tiled green space, you have no obligation to make it that way. Feel free to do what makes you happy! Let your garden be overgrown, put your best porch plants out, or keep a dirt yard, if that makes you feel closer to the nature space you want. A porch garden can be an expansive part of your yard or only take up a few cubic feet — there aren't any rules, as long as you are content with it!
#2 – Install Vertical Storage
In the interest of practicality over cosmetics, if you intend to spend any meaningful length of time tending to your patio garden, you will be glad to have a vertical storage shed somewhere nearby. They can look pretty, pragmatic, and everything in between, so if you are someone that prefers to keep their garden looking like a certain aesthetic, you can be sure to find an outdoor storage shed that matches the vibe you are looking for. Or if you don't like the idea of having your storage visible from where people sit or walk, vertical storage units can be easily stowed out of the way.
Alternatively, you could commit to a storage unit. A storage unit is perfect for storing extra pots, tools, and other gardening equipment while you keep more necessary tools, such as your watering can, at home. This would allow you to satisfy the aesthetics of your garden patio while also creating a space to organize your garden tools.
#3 – Hang Planters Over Railings
There may be an abundance of ideas online for placing planters on your patio, but our preference is to hang them evenly along or over any railings you have available. This will put them at the perfect height to tend to, as well as appreciate — and many stores or online marketplaces sell planters that are designed specifically for hanging over railings or doors. They double as an easily swapped-out decor, if you're ever in need of a cosmetic shift or have holiday decorations you want to hang up instead when the plants are out of season.
#4 – Weave In Some Crawling Vines
In our opinion, crawling vines look good in most arrangements, as long as they aren't too dense or have grown out of control. Whether they are crawling up brick walls, woven through a fence, or dangling from an overhang, they can add a tasteful, classic garden sensibility to your patio.
#5 – Find Space for a Firepit
We recognize this isn't practical for every living situation, but few things add as much personality to a patio garden as a firepit. Whether it's dug into the earth or suspended in metal, this is a quick gateway to comfortable nights outside, making memories with friends, and enjoying the summer or fall weather.
#6 – Elevate Your Garden
Take your outdoor gardening game to the next level—literally. By elevating some of your land so it sits on a different level than your patio, you can create a sense of depth that a ground-level garden would lack. Plus the overlapping nature of an elevated herbal garden means your vines and stalks are less likely to become entangled with each other.
#7 – Emphasize the Furnishings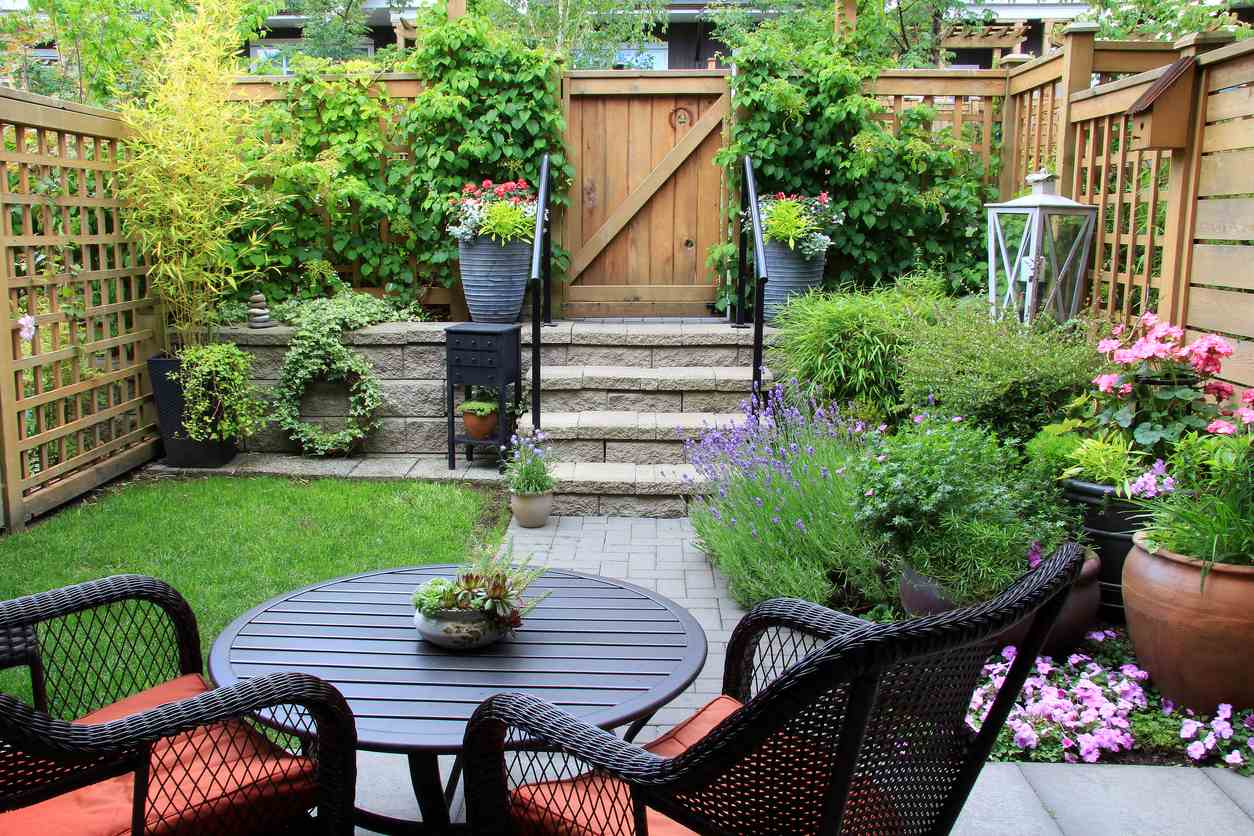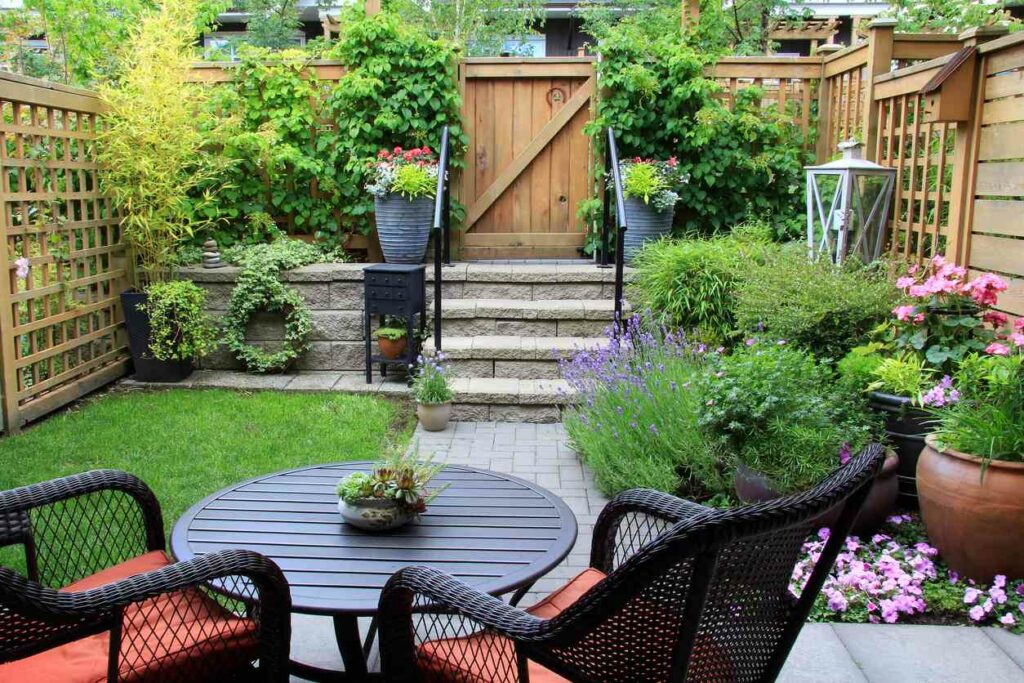 We all know that the most important part of a patio garden is the green life present. However, if you're looking to upgrade your patio garden without stressing your green thumb even further, you might be able to achieve your goal just by swapping out some of the furnishings currently occupying that space. Maybe it's an old, rusty table, or upholstery that's been moth-eaten and stained with age, but some of the man-made products could be holding back your patio from its full potential.
Trade out the old for the new, and watch your outdoor space light up in a way it never did before!
#8 – Work with Water
One of our favorite parts of our patio garden ideas list is the inclusion of a water structure. If you're working with limited space but still want water to feature as an element in your patio garden, you might need to give up on the idea of having a fountain or pond. Instead, take advantage of your vertical space to include a waterfall on an open wall. This fulfills your desire for some fun, moving water, while also taking up some of the visual equity in your patio space. And because the water is constantly flowing, it's unlikely to attract bugs, too!
#9 – Grow Your Favorite Foods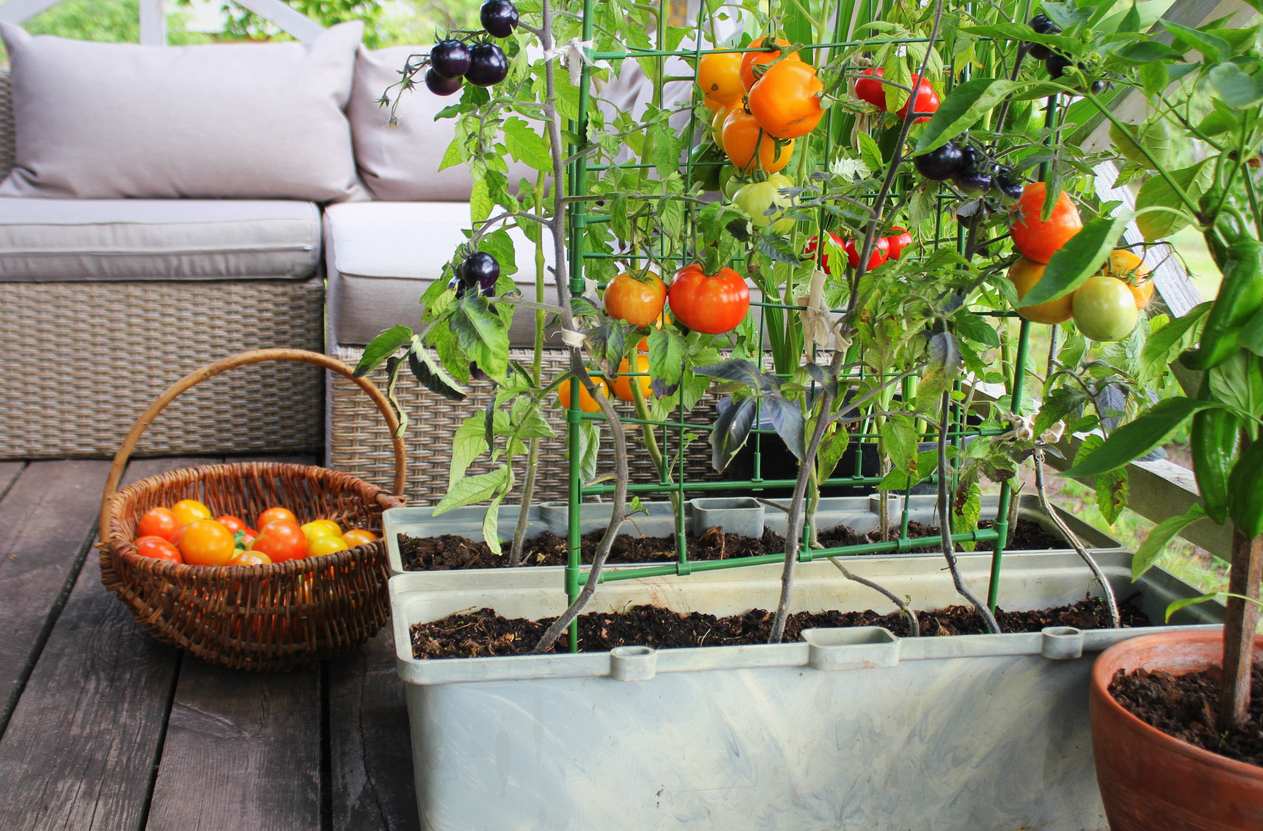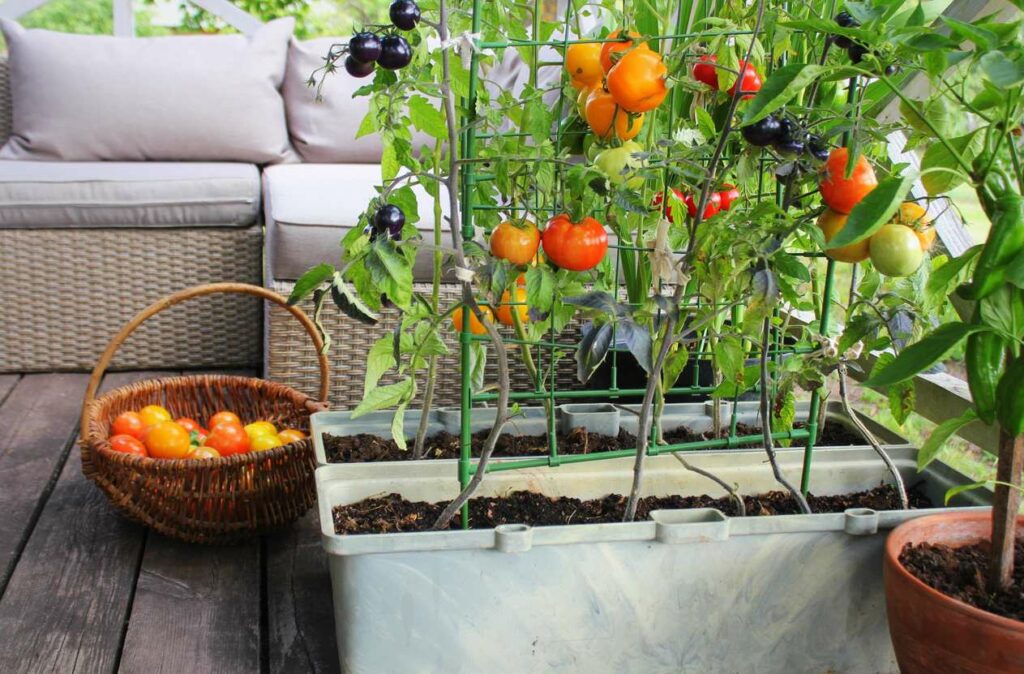 Many people begin their gardening journeys not only for the aesthetic pleasures it brings, but also because it facilitates the satisfying activity of growing foods and herbs that you can use for your own consumption.
Home-grown tomatoes make a great gift for family and neighbors; basil is excellent for both its flavor and fragrance; and if you enjoy making your own hot sauce, then harvesting your own peppers can be a fun, creative experience. The act of creating food from scratch and eating the fruit of our labor is a deeply enriching experience that some can't help but pursue, and we understand why. A patio garden is a great place to get started on your homegrown food obsession.
#10 – Be Mindful of Lighting
Not every patio garden will benefit from the same lighting setups or tricks. Plants often need plenty of natural lighting to thrive, so finding a way to optimize your setup to get your plant life the most sun they can get is a must. If you expect you'll be spending a lot of time in your patio garden at night, then we recommend installing some string lights, ground lights, and other light fixtures to capture your preferred sense of ambiance.
Never underestimate the power of lighting and its ability to make or break the feeling you have inside when resting in or walking through your garden — sometimes it can matter more than the individual plants you have on your patio.
A Place for Your Garden Tools
Whether it's a couple of shovels, some additional flower pots and a raised flower bed, some outdoor furniture, or any assortment of gardening tools, it can be difficult to find room for all of the supplies you need at home to grow and maintain a patio garden or fun outdoor space at your home. When that happens, don't worry — National Storage have storage facilities just for you. With locations across Michigan, Ohio, Kentucky, and Indiana, we have plenty of options for you to choose from for all of your storage needs. Bring your patio garden to life with the help of National Storage today!
More From National Storage