What You Need to Know About Moving to Grand Rapids, MI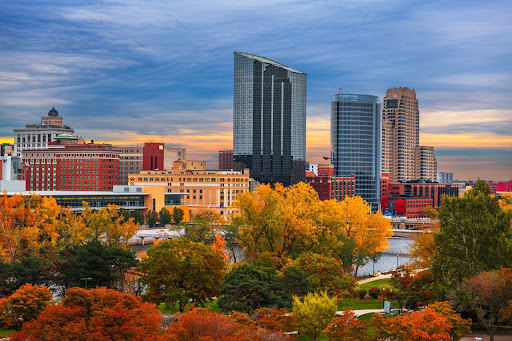 If you're moving to Grand Rapids, MI, you're in for a treat. This rapidly growing Midwestern city boasts a rich local culture, a diverse population, and a wealth of career opportunities in a variety of industries. From the Grand Rapids housing market and education to moving tips, we've compiled the essentials on living in Grand Rapids, MI, to simplify the relocation process.
The Grand Rapids Housing Market
According to the real estate experts at Redfin, the median housing price in August 2021 had risen 26% year-over-year to about $255,000. Act quickly if you find your dream house in Grand Rapids, MI, because homes can sell within a week. South East End, West Grand, and Creston are considered some of the best areas among the city's 28 neighborhoods.
From compact condos to grand estates, there are options for every budget. Although apartments average around $1,200 a month, you can find rentals less than $1,000. Of course, luxury apartments and houses are available if budget allows. Some of the most affordable rentals can be found in Eastgate, Garfield Park, and Baxter, while high-end housing abounds in South Hill, Roosevelt Park, and Southeast Grand Rapids. If you find yourself in a smaller rental or home, storage units in Grand Rapids can free up valuable living space.
Grand Rapids Schools
For families, one of the most important aspects of living in Grand Rapids, MI, is education. As the state's eighth-largest school district, Grand Rapids Public Schools serves almost 17,000 students. More than 50 languages are spoken in the district, which consists of the following:
15 elementary schools
Nine K-8 schools
Eight middle schools
Five high schools
Grand Rapids schools also include a science academy, a Montessori school, and a special school with programs for vocational education and Native American students. City High Middle School is notable for its high state and national rankings. In addition, Grand Rapids boasts five religion-focused private colleges, four seminaries, a private law school, two private universities, a community college, and two public universities.
The Best Grand Rapids Attractions
Though excellent housing and education options are must-haves, everyone needs to get out and have some fun. Here are a handful of ideas for things to do, from markets and museums to theatres and tours in Grand Rapids, MI:
Walking tours let anyone moving to Grand Rapids meet new people while exploring the city. The Downtown Walking Tour introduces you to the city's culture and history with museum stops and visits to other key local sites.
Tours Around Michigan is a Grand Rapids-based company offering tours with themes ranging from art to ghosts.
Enjoy live theater at top-rated venues like 20 Monroe Live and Master Arts Theatre.
Take the kids to John Ball Zoo or Grand Rapids Children's Museum.
Pick up some produce at the Fulton Street Farmers Market.
Revel in nature at the area's botanical gardens and nature preserves.
Bond with friends and family as you work your way out of one of the city's escape room venues.
Moving Tips for Grand Rapids Residents
Make moving to Grand Rapids even better with an efficient relocation experience. Peruse your options for utility companies, and arrange to have your power turned on at least a day before you move in. If you don't plan to hire professional movers, secure plenty of quality packing supplies and moving materials in advance. Local storage facilities such as National Storage don't only provide well-kept, conveniently located units for your belongings; we also sell packing supplies on site to protect them.
Rent Your Grand Rapids Storage Unit Today
With three facilities offering self storage in Grand Rapids, MI, and others in surrounding neighborhoods, National Storage can help ease the stress of moving and settling in—giving you more free time to get to know this beautiful Midwestern city. Don't forget to check for specials when reserving your storage unit online!
More From National Storage