Self Storage for Outdoor Storage Space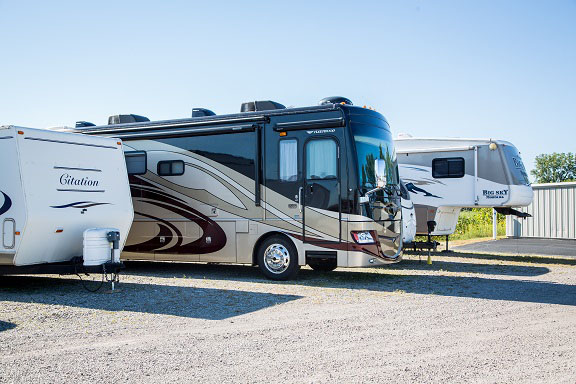 Is your garage, or even your driveway, becoming overrun by your belongings- especially those larger ticket items like recreational vehicles, boats, motorcycles, or that classic car you keep saying you're going to work on next? Maybe your neighbors have made comments about all the "stuff" in your yard, or perhaps your local government has regulations prohibiting storing certain items on your property. Well, if any of these reasons apply, several of our National Storage locations have the solution just for you! Many of our locations offer RV and Boat storage as well as vehicle storage for those larger items you need easy access to, but no longer have room for at your home.
A self storage facility will keep your expensive RVs, boats, four wheelers and other "toys" safe during those days or weeks you don't have the opportunity to use them. Why wait until the fall or winter to store these items, when renting a self storage unit is easy, convenient and close to home?  The fact that they are protected from the weather is just another added bonus.
Another good reason to choose self storage for your RV?  You can keep it closer to a major highway and save on your fuel costs!
There are a few tips to keep in mind when you decide to move forward with renting a self storage unit for these outdoor storage items:
Choose a location that is close to home in a facility that is clean and dry, and also has security systems in place to protect your items.
Regardless of how long you will be storing your RV, boat, motorcycle, car, etc., make sure they are clean when you bring them to the storage unit.  Dirt can cause things to decay or possibly attract bugs or critters that could damage your item.  Make sure all garbage and food items have been removed from the insides of the vehicles, too.
Speaking of critters- it's best to make sure all windows, doors and other openings are completely sealed to keep unwanted creatures from finding their way in. Use covers when possible and close all vents. You can tape or strap down blankets on the hood of the vehicles and cover engines with rubber bands and plastic bags if you don't plan on using these items for a length of time.
Make sure your gas tank has enough in the tank to start the engine- but don't fill it past a quarter of a tank at the most. If there was a fire at the facility, the less gas stored in these units the better! A full tank would fuel the fire and make it that much more difficult for the firemen to put it out.
Park the vehicle on planks or a tarp to keep them off the ground and moisture from damaging the tires.  Also, make sure the tires are at their proper air pressure.
Now that you know how to clear up some space in your garage and driveway, what are you going to do with all that extra space?
More From National Storage