Home Office Organization 101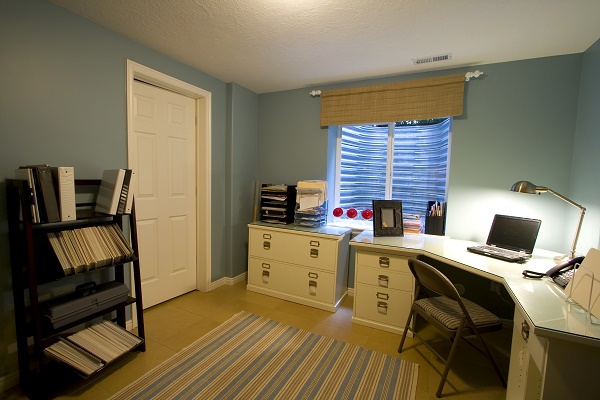 The home office can easily become a cluttered, dysfunctional space. Papers and files can get piled up on the desk, chairs or shelves instead of tucked away in a file cabinet like they should be. Sometimes it's simply just easier to grab our laptops and park ourselves on the couch instead of sitting at the desk in the office when that room is messy and disorganized.
The Importance of an Organized Home Office Space
Getting the most out of your home office space is important to a functional household. The office is a perfect place for kids to do homework or for you to concentrate on paying bills. This room shouldn't be simply considered a "catch-all" for extra household belongings, either. Once the office gets cluttered, it becomes more and more difficult to using it for its true purpose: as a quiet space for you and family members to be productive!
Easy Office Organization Tips
Spend a bit of time at least once a month organizing your home office, just like you would other areas of your home. This way, it won't be such a huge undertaking all at once and you'll be sure to get the most out of the space. Put away files on a weekly or monthly basis instead of letting paperwork pile up for months at a time.
Here are a few other office organization tips for a clutter-free, productive home office space:
Clear it out. Like any home organization project, the first step in office organization is to clear the room of clutter.  Make piles for "keeping/filing" and "tossing/shredding" and then promptly file what needs to get filed and toss what needs to get tossed- or shredded, if the paperwork contains any personal or account information.
Use the right storage containers. Once the room is clear of clutter, take note of what types of items need to get put away besides paperwork, like office supplies. Getting all those miscellaneous items off the surfaces in the room will open up the space to make it more functional. Invest in plastic bins, baskets, or dividers for your desk drawers.
Color code and label things. Staying organized is much easier when you know where everything goes at just a glance! Get some different color file folders for your important documents and label them – for instance, green folders for financial papers, red for medical, blue for school, yellow for household documents, etc.
Create binders. Along with organized files, some people find keeping binders of important information is also helpful. Binders can be stored on a shelf in the room, making it easier for you to find what you're looking for quickly. Create binders for medical records, auto maintenance, pets, household manuals, and more.
Use vertical space. Sometimes the home office can be a somewhat smaller space, so make good use of it by utilizing the walls for shelving, calendars, whiteboards, or hanging file systems.
Don't forget, self storage is also a perfect option when you're running out of storage space in your home. You can easily store paperwork and office supplies in a self storage unit and keep them safe and secure until you need to access them. Stop by any National Storage location for more information!
More From National Storage