Fall Decorating Tips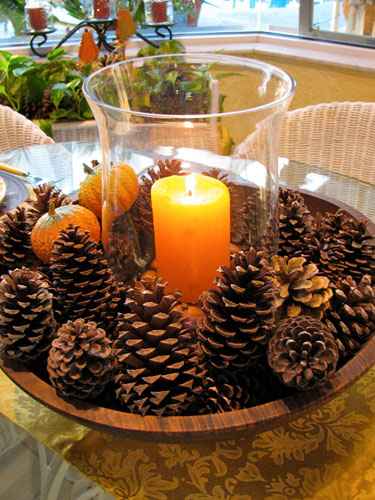 Fall in Michigan is definitely one of the loveliest times of the year. Take a drive anywhere in the area and you'll enjoy all the reds, oranges and yellows of the trees- colors so vibrant that you can't help but be inspired to decorate your home with them, inside and out.
Of course, Halloween is also part of the season, and many people spend a lot of time making their homes spooky for the holiday, regardless of whether they're even having a big party or not! You'll start seeing Halloween decorations at the stores by the end of the summer, and if you're crafty enough you can even make your own. From tombstones made out of Styrofoam dotting the front yard to ghosts made out of old linens swinging from the front porch, there are a number of ways to make your home creepy for those trick-or-treaters in the neighborhood.
If you're more interested in decorating your home for the fall season in general, there are many easy ways to incorporate the colors and symbols of the season (think pumpkins and haystacks) into your décor.  Plus, you can start getting decorations ready at the end of September and keep them out all the way through Thanksgiving!
Fall Decorating Outside
Obviously, it's pumpkin season! Purchase some pumpkins from your local farmer's market or grocery store and get your porch or front step looking seasonal in the easiest way possible.  Get a few pumpkins of varying sizes and line your steps with them.  Then, when Halloween gets closer you can use a few of them for jack-o-lanterns.
Of course, pumpkins aren't the only fall decoration you can use outside.  Many farmer's markets, flower shops or even some hardware stores sell bales of hay and cornstalks.  You can arrange these on your front porch, along with some Hardy mums in various colors, to make a welcoming, homey entrance for your guests.  Here's just one example of how you can make your front porch the talk of the neighborhood: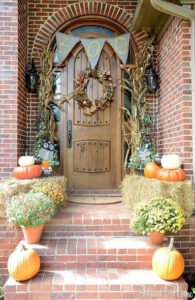 (photo courtesy of All Things Heart and Home)
Fall Decorating Inside
When it comes to decorating your home for fall inside, one of the easiest and most versatile places to decorate is the dining room table. There are so many different types of centerpieces that even a non-crafty person can create, and once you throw in some pretty candles and a fall-colored table runner or placemats, your dining room will be transformed instantly into a cozy autumn-themed room.
For instance, how easy is this centerpiece? Get a large wooden bowl, fill with pine cones and place a hurricane candle vase in the center: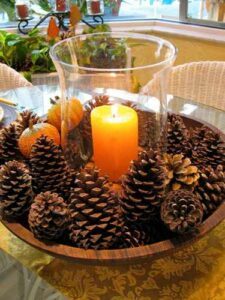 (photo courtesy of May Days)
Whether your decorating involves a creepy Halloween theme or cozy autumn colors, making your home seasonal can be fun and easy and helps everyone enjoy the time of year.  What are some of your favorite fall decorations?
And don't forget, when the season changes over, you can store your fall decorations in a self storage unit with National Storage to keep them safe until next year.  Stop by any of our convenient locations today!
More From National Storage