Attic Organization Tips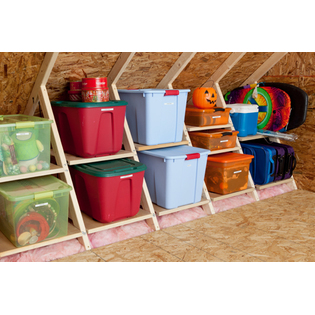 When is the last time you spent any time up in your attic? Attics are generally visited less often than other areas of the home since they can be difficult to access; sometimes you can only get into them by climbing a ladder or very narrow stairway, and then squeezing in through a small door. Some attics can also be left unfinished, which means once you're up there you need to be careful moving around, too!
That said, the attic is still a great place to store some belongings. Unlike basements that can be damp or even flood, attics are nice and dry. However, if the attic is not properly insulated it can experience extreme temperatures and humidity. Therefore, don't store delicate items like CD, DVD or comic book collections, old photographs or vinyl records in your attic. It's a much better idea to store these in a climate controlled self storage unit at one of the many National Storage locations!
How to Organize Your Attic
Spring is the perfect season to start some attic organization projects! The weather is not too hot or too cold, so get up there and do a thorough attic clean up. Here are a few attic organization tips to get you started:
Assess current items. First, take a quick inventory of the items you have stored your attic space. Decide what belongings you want to keep stored, what you can toss or donate, and what should get placed in a self storage unit.
Create a plan. Designate "zones" in your attic for things like holiday decorations and seasonal items, clothing, family memorabilia, etc. Keep similar items together to provide easy access to things you'll need on a semi-regular basis. Items that you won't need frequently should be stored in the back of the attic away from the door.
Get the right supplies. Keep your belongings protected by investing in some sturdy plastic bins. Label each bin clearly so you when you need an item, you don't have to go through every container looking for it. If you have room, consider getting some shelving units to keep things even more organized and off the floor.
Move items immediately. If you're moving things out of your attic, get them out of the home as soon as possible. Don't let clutter build up in other areas of your house! If you're utilizing a self storage unit, get them over to the facility right away. Likewise, items that are getting thrown away or donated should be dealt with immediately.
Keep it organized! Once you've reached your attic organization goal, keep it organized! As you're accessing items, make sure you're putting things back in their proper spots. At least once a year, go through this attic organization plan again so it doesn't end up in the messy state it might have been in before.
National Storage has that extra space you need when you run out of storage in your home! Stop in at any of our locations to see how we can help you with your home organization goals!
More From National Storage